Here are my finished castile soaps!

I had some teddy bear embeds from before so I placed them on top of some of the soaps individual soaps.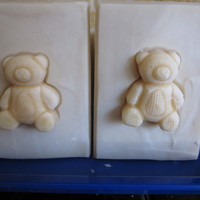 Very cute!
I also got to use my tank cutter for the soap log.


That's always fun, and it makes really even and consistent cuts and does them super quickly!
So now these will sit around for a good and long cure. I mean really really long. People say a year is good.